Knitting Retreat at Hotel Schloss Münchenwiler in Switzerland
Being from this lovely speck of the planet where I learned knitting early on in life, I have always retained a close connection to Switzerland's history and past, and when I started to brainstorm for what I wanted to share with you all on these retreats (besides loads of knitting information and of course, time to knit) I quickly ran up a long list of regions of Switzerland I loved, trips and vistas I wanted to share and locations that would offer some of the essence of what calms and grounds me.
The hard part was to narrow it down, even though we truly wanted to have you come along EVERYWHERE!
After much discussion and rounds of elimination, we ended up with 2 choices distilling the wonder of Switzerland into bite sized portions that would allow a pleasant time, some fun excursions and plenty of down time between classes and trips to relax and knit and just be and absorb.
Schloss Münchenwiler offers some of all of that.
Schloss Münchenwiler (or château villars-les-moines of you prefer the French name) is situated near the historic town of Murten, and is in an area of Switzerland where both German and French are spoken. Many street and road signs are also 'bilingue' or bilingual. The hotel and castle itself sits in the middle of an extensive garden and park property which especially in the summer invites to wander and linger.
On nice days breakfast can be served outside on the shaded deck and after filling your mind with new and exciting knitting techniques, you may want to stroll over the lawns, past the castle pond and spend time in the shade of the many old and majestic trees that dot the castle gardens.
History
When the extensive renovations added the annex building with it's modest and simply furnished rooms, the idea was to harken back to the locations' humble beginnings as a Cluniazenser Priory, before it was enlarged and became a feudal seat.
1081 The brothers of Vilar donate all their earthly property to the monastery of Cluny. The documents state, due to their sins. Cluny establishes a Prioryt.
1485 The Pope separates Münchenwiler form Cluny and puts it under the authority of the St. Vinzent-Stift in Bern.
1668 After numerous changes in ownership, Anton von Graffenried buys the castle and its lands. His family retains ownership of the lands until 1798, the castle until 1932.
1943 Kanton Bern buys the run down castle and lands. The location houses troops and serves as classrooms for military training.
1986 bis 1990 Renovation and modernization of the castle and church, addition of the Annex as a guest house. Re-opening of the location as education and meeting center.
2002 The 'Parkhotel Schloss Münchenwiler AG' converts the education center into hotel and restaurant. Additional investments into infrastructure allow Schloss Münchenwiler to serve as hotel with restaurant, meeting facility, banquet and cultural hub.
Relax and knit, or get an extra dose of living history
Close proximity to Murten / Morat (we can take a bus right from Münchenwiler) will definitely vie for my leisure time. Lake Murten is just beautiful, and if it's hot, invites one for a dip and a swim…
On the other hand, I can also see myself knitting, or perhaps journaling and just drifting in my thoughts sitting under the shade of those trees. The soft rustle of leaves overhead,  and the soothing murmuring of running water somewhere in the background. Sitting right here: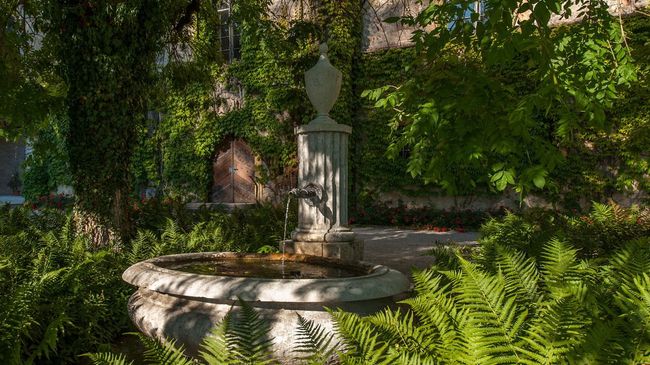 I am so happy to be able to welcome you to my home country and therefore hope that you will join me and Nancy Marchant at this location in July/August!